Maxo Of Aulon Leather Baby Pram Stroller 2 Way Shock Proof Many Colors Options 0 - 4 Years
Customer Reviews
Write a Review
Ask a Question
Filter Reviews:
stroller
design
baby
order
option
$1,300.00
1,300.00
pandemic
star
stroller bassinets
04/02/2020
Edith G.
United States
KS USA
I'm going to go ahead and rate it a 4 star it's a beautiful modern yet classic design. Only wish there was also a metallic option for the stroller bassinets that have a gold color on them. Also the wait time to receive our stroller was about 2 months or more, don't know if this had to do with the 2020 pandemic or what but it had me worried it wouldn't arrive by the time our baby arrived. Luckily the staff on TAY were very calm and worked with me by responding quickly and also checking in on our order which in turn made me feel at ease that were would and did actually relieve our order. It's beautiful I can't wait to be able to get out with my baby in this stroller.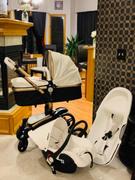 12/18/2019
Danielle D.
United States
Stroller
The stroller is perfect!!! Easy!! Beautiful!!! I would buy again and again!!! I saw a similar one in the store and only the stroller is $1,300.00 !!!! I'm very happy !!! Thank you !!! Remember you have to buy at least 60 days before your baby arrive !!
Absolutely love this combo system
Absolutely love this combo system. Very light weight compared to the last stroller/car seat combo I had to use (which was 15 yrs ago!) I remember them being so big & bulky...as well as heavy. This product is NOT that. Very sleek & stylish and the light grey is a beautiful neutral color. Very pleased with the ease of this stroller/car seat!
Awesome customer service
We had a little baby girl she's six months old now the cushion in the picture was blue I called up and asked them about a color change of cushion and they sent me one for free I chose the black and white one which was a bad choice on my part because it doesn't look as good as the pink one would've looked but that's neither here nor there the thing that counts is they sent it to me free of cost and DHL status so I came within a matter of days. Whoever runs the show is doing a great job and I really appreciate it now I'm in a have to message you guys and ask for a different color cushion and I'll Pay for it. If anyone is reading this and they are having second thoughts about buying aulon stroller don't second-guess yourself heavy duty great quality and it looks pretty awesome we get compliments now what are my **** cozy stroller forgot about the compliments were going to get with this one going to be like movie rock stars well sorry to keep you guys in so long I hope you have a great night oh