---
Customer Reviews
Write a Review
Ask a Question
Filter Reviews:
color
infants
touch
wheel
view
seat
People
handle bar
instruction booklet
insert window
Luxurious yet affordable stroller!!!
This is a beautifully constructed stroller, that feels very luxurious, with many great features!!!Sturdy, smooth and attractive. Instructions could be better written, but despite that, it is an amazing stroller at an affordable price point. PROS: - Beautiful stroller!!!People always stare at it and wonder about it. - The bassinet/seat is reversible. We can bond and keep an eye on our infant when he is facing us, or he can have an unobstructed view when facing away from us. There is a mesh insert window that is very useful for keeping an eye on little ones when facing away. - The wheels are sturdy and ride so smooth. The back wheels don't swivel, and they lock. The front wheels can swivel or not, depending on your settings, and they lock as well. Each wheel can be easily taken out/put back in which makes cleaning them easier. - The materials seem durable and the padded handles that infants/adults can hold onto is a nice touch. - The handle bar is height adjustable, which makes for a comfortable ride for majority of parents. CONS: - The instructions could be better. The instruction booklet has pictures which helps, but it also has grammatical errors that makes certain steps hard to follow. Once you get a hang of assembling/folding the stroller, it is very easy. But until then you have to do some exploring of your own due to somewhat unclear instructions. - The blue color is beautiful, although wish there are more colors for girls, or more neutral colors that could fit both genders. Overall, we are very impressed with this stroller and its features, especially at this price point!!!You can tell that a lot of thought has been put into the design of the stroller. Despite somewhat unclear instructions that are a bit frustrating at times, the stroller itself seems like it is very well built and that it will last a while.
Love this Stroller!
I have a 3 year old, and a 4 week old and I wanted a stroller that I could use for both kids. I love that this can be a bassinet for my baby or a seat for my daughter. It's SO easy to unfold, and fold it back up. And very easy to switch between the bassinet and seat. Every time I'm in public I get stopped and people ask where I got this stroller and say comments like "wow that looks really expensive". It's an amazing stroller, and an amazing price!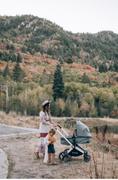 This section doesn't currently include any content. Add content to this section using the sidebar.